[CHURCHLINK] [UP][HOME] [PROBE] [VOICE FROM THE PAST] [UNSUNG HEROES] [ GLOBAL NEWS] [BOOK EXPRESS] [SEARCH]

Attacked in Sudan

In March 1997, VOM workers were delivering Bibles and aid to Christians in the Nuba mountains of Sudan. They were no sooner unloaded when a Russian-built helicopter gunship, manned by Sudan's Muslim troops, attacked with rockets and cannons.

They destroyed the Bibles and aid which had just been delivered by The Voice of the Martyrs workers. Just a few Bibles survived.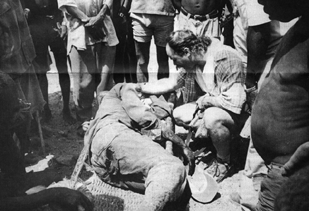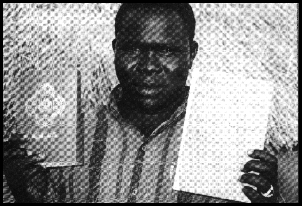 Kevin Turner filed this report:
We had been out of the target area for almost 24 hours, listening to the death wails of a Christian family in their "tude" (a round, mud house) who had lost their daughter to enemy gunfire. At night we listened to the agony of this mother who could only express her grief by wailing and crying.
I longed for her to just be quiet! Her high-pitched expressions of pain reminded me of how fleeting life is in the Nuba Mountains of South Sudan.
We had been attacked by helicopter gunships for distributing aid in a region where so many people suffer. This mother's crying was a sign that death could now be crouching at the door for even me. I thought of my children who were safe at home, bur what if they were here as so many children are. I cried out to the Lord to have mercy on us and this grieving family.
Three were killed instantly and four were injured from shrapnel when the gunships opened fire. Many others, including Ray T. and myself, were injured as we were diving into the rocks for shelter from the helicopters hovering overhead. Thirty and fifty millimetre cannons were ripping the ground around us, rockets blasting through the small trees which did not hide us.
The children who were being attacked were crying out to the pastor asking him what they should do. He responded, "Stand still and the Lord will protect you." They asked him, "What have we done to these men that they are trying to kill us? Why do they hate us like this!"
Some of these children will never see another night sky or drink the rancid leftover water from the rainy season or wonder where their next meal will come from. They are now laid down in peace.
The following night in another area of the mountains, the same screaming was heard, as death claimed its third victim from the attack the previous day.
I remember how hard we had worked for three-and-a-half days in Kenya purchasing the necessary supplies for the LifePaks. We bought l0-gallon buckets for grain storage which would also serve as a receptacle for the other LifePak supplies. The other items included a hoe for agriculture, an axe for chopping wood, a mosquito net for the rainy season, water purification tablets, soap, matches, a five-gallon water jug, a six-quart cooking pot, four plates, cups, and spoons, a metal ladle for serving, a blanket, and a Bible in the native language.
This pilot project of getting 500 LifePaks into the Nuba Mountains was birthed by our passion at The Voice of the Martyrs to meet the practical and spiritual needs of these Christians who live in one of the most persecuted and deprived areas of the world.
The Islamic government of Sudan has set out to exterminate all of the Christians who occupy this area. In the nine and a half days that I was trapped in the Nuba Mountains, I was able to be an eyewitness to the atrocities: 50,000 people became refugees in three days from the nine villages that were attacked and burned. The Muslim forces would immediately target the churches, the pastors, and then the Christian population.
During our 90 mile (150 km.) walk to another evacuation point, we saw three churches burning and many Christians killed. I saw one of the pastors who had been shot three times. Instead of the normal crucifixion of the Christian leaders, Muslims now throw them into dry wells, pour fuel on them, and set them on fire.
For days we hid in the mountains with these faithful believers. At one point I asked them if it would be better for them if I had left the village due to the increased threat of attack by the Islamic forces. They laughed at me and then translated what one man said in Arabic into English:
"The morale of the Christians has never been higher in the Nuba Mountains because five Christians came to bring us physical supplies and the Word of God. We are so happy that we have not been forgotten nor forsaken. You have been a witness to our suffering. We simply ask you to tell the world." I recall explaining to my team members before flying into the Nuba Mountains that our job was this: "When all hell breaks loose it is our job to take in a little piece of heaven."
---
Source: The Voice of the Martyrs

Serving the persecuted Church, the mission works in over 50 countries. To help support the ministry, you may contact the Australian mission by email on:
[email protected]

or write to them:
The Voice of the Martyrs
PO Box 598
Penrith NSW 2751
Australia

[CHURCHLINK][UP] [HOME] [PROBE] [VOICE FROM THE PAST] [UNSUNG HEROES] [ GLOBAL NEWS]] [BOOK EXPRESS]
For more information on Bible studies available, visit the Churchlink site on the World Wide Web at http://www.churchlink.com.au/churchlink. Enquiries to: [email protected]